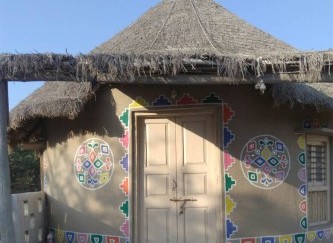 Kutch has been known for its tradition, and when you visit Kutch, what would you like? Feel of that tradition, right? Well, Rann Rajvi Home Stay will let you have a glimpse of that tradition or rather be with the tradition. In Kutch, The Bhunga (Hut) has been adopted from the ancestors and still continues to serve the true meaning of nature. The hut has Kutchi, handmade decoration to embellish your stay; making it memorable.
You can choose your Stay Room according to your taste. We have affordable price range if your concern. We are located in Gorevali, surrounded by many wonderful places to watch out for in your trip to Kutch.
Taking good care and providing the best service has always been our pleasure. You enjoy your trip, and let us be part of your memorable days. Even with a touch of traditional Bhunga Stay, we provide facilities such as a Double bed in all rooms, attached bathroom, Pure Veg. Food, Hot/Cold water as per your preference, Traditional Style Dining, Mineral Drinking Water, Mosquito repellents and a parking lot. Let us take care of you while you embrace the unforgettable memories of KUTCH.
Also, you can admire the sound of tradition with Cultural Folk Music, performed in the Evening.